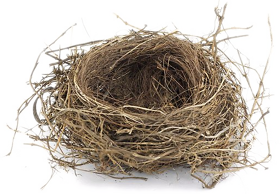 Have you found yourself with an Empty Nest? We have!
So many times the family home has become an empty nest, the question becomes okay now what?
Families tend to enjoy living in a large home with a big yard, a neighborhood where there are basketball goals in every driveway. The sound of kids playing upstairs, and late night sleepovers that keep everyone awake.
Awe the memories!
After little junior or in our case KT, has headed off to college will they really be coming back home to that room that hasn't been touched in years? What are the odds? What do you do with all that space you needed? Is it time to downsize and where would we go?
Well I have been approached by several couples as a Realtor with the same questions.
I have found these amazing, cute new neighborhoods popping up all over our area.
Most of them include the following amenities that I find very appealing;
Small fenced yards
Landscaped and maintained by HOA
Gated entrance
Single story
Great Open Floor Plans
Brand New
Energy Efficient
Low Maintenance
Visit our website www.SellingEllisCounty.com for a list of homes.
We are not ready to make the leap to downsize I think my husband will mow our acre until the end of time, but if you find yourself considering your options. Give me a call.
Ellis County has so many wonderful residential opportunities for Empty Nesters, First Time Home Buyers, and Investors.