Oh yes the Joys of Remodeling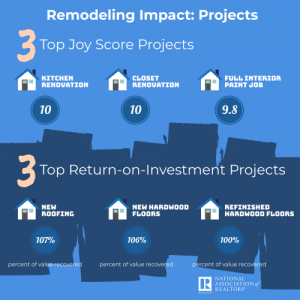 Recently my husband gifted me with a new kitchen!  How exciting right?
It was!
I am not going to tell you that we didn't experience headaches because we did.  The biggest headache was not able to use my kitchen for at least a month.  All the planning in the world will not prevent this inconvenience.
Once the project is complete there is a sense of joy!  Accomplishment something that you can see and touch.
Referring to the info-graphic the kitchen gives you a sense of JOY because it is bright and shiny.  I like JOY!
Last year I also "Tidy Up" my home,  it was not a Closet renovation but it felt really good.  I can see why it has a JOY factor of 10.
We still need to paint the entire house,  I can't wait to experience that JOY!
Now on to how it affects your return on investment,  The new roof has a return on Investment of 107%, that is hard for me to swallow as a consumer because I like bright shiny things.  But buyers like to know that things are going to last.  Same thing goes for hardwood floors those ROI numbers are 100%!  Wow you can't go wrong there.
So if you are thinking about a home renovation, consider why you are doing it and will it bring you JOY or $$$$.