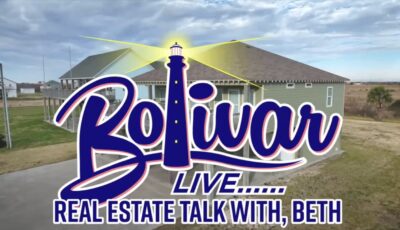 On today's show
Real Estate Talk with Beth, we're excited to announce that two new custom homes will be built in Crystal Beach walking distance to the beach. These homes are being built by a local builder  known for  attention to detail and commitment to quality, and they are sure to be some of the most stunning homes in the area.
Features of the New Home
Both of the homes feature will feature clean lines, open spaces, and plenty of natural light.  They will be designed to take full advantage of the stunning views and natural beauty of the area, with large windows that provide panoramic views of the surrounding landscape. The interior will be finished with high-end materials and top-of-the-line appliances, creating a sleek and sophisticated living space that is perfect for entertaining.
Built with High Standards
Both of these homes will be built to the highest standards, with an attention to detail and a focus on quality that is second to none. From the foundation to the roof, every aspect of these homes will be meticulously planned and executed, ensuring that they are both beautiful and functional for years to come.
Looking for a New Home
In conclusion, if you're in the market for a new custom home, these two properties are definitely worth checking out. With their stunning designs, top-of-the-line finishes, and unbeatable location, they offer everything you need for a luxurious and comfortable living experience. So why not schedule a visit and see these homes for yourself? You won't be disappointed!
Contact us today if you are interested in disussing option with the builder!