Home Priced Right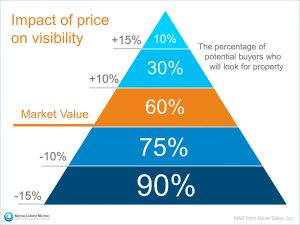 Homes priced right to sell
Price your home to sell. From the very first day that you list your home for sale, you will attract the most qualified and most interested Buyers. The first few weeks of a new home listing shines brightest. A fresh new listing draws the attention of Buyers waiting for a new home to hit the market and those Buyers who just started looking will see your home priced right, and will break down your front door to take a closer look.
On the other hand, a listing that stagnates on the market for weeks and months on end becomes stale. Buyers begin to wander "What is wrong with the home?". If Buyers think that something is wrong, they'll want a discount. Buyers will think you're beginning to get desperate because your home hasn't sold and that you'd likely start to consider taking a discount.
Avoid the discounts, price it right, and increase your chances of having multiple interested Buyers.
Call a Professional for Advice
Many realtors can take a look at your home and give you advice. A local Realtor with knowledge of the market can Sale your home for you.
Call the Home Team anytime
Beth Terminella 214-801-9801 or Leslie Armstrong 817-980-4760
www.SellingEllisCounty.com