🏡 Exciting Real Estate Talk with Beth! 🏡
Hey there, home enthusiasts! 🌟 Join me for a virtual tour of a true coastal gem – introducing the "Lazy Lobster" 🦞🏖️, a stunning 5-bedroom house for sale on the picturesque Bolivar Peninsula.
🌊 Nestled right by the in the Heart of Crystal Beach, this property is more than just a house – it's a lifestyle! With 5 spacious bedrooms, there's room for the whole family and even a few friends. Imagine hosting your whole group or being able to add this to your portfolio as an investment! ☀️
But that's not all – let's talk about its incredible rental history! 💰📈 The Lazy Lobster isn't just a beautiful beachside retreat, it's also an investment opportunity you won't want to miss. With its prime location and irresistible charm, this property has a proven track record of delivering excellent rental income. 🏖️📊
Whether you're looking for a peaceful getaway for your family or aiming to expand your investment portfolio, the Lazy Lobster checks all the boxes. Don't miss out on our virtual tour where we'll explore every nook and cranny of this coastal treasure.
Join me live as we dive into all the details of the Crystal Beach real estate market every Monday. If you would like to have your home or property featured on Real Estate Live LETS TALK  ! 🗓️🕔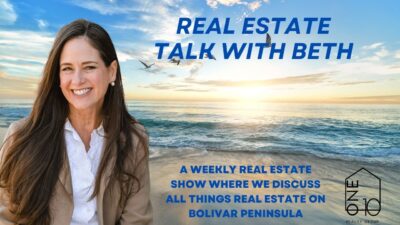 #RealEstateTalkWithBeth #LazyLobsterHome #BolivarPeninsulaProperty #BeachsideLiving