This week on Bolivar Live we discuss housing pricing and Short Term Rental Income
Click Here to Watch the entire show!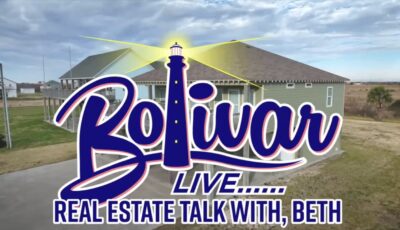 The Bolivar Peninsula
The Bolivar Peninsula located on the Texas Gulf Coast, has become a popular vacation destination in recent years. The area offers beautiful beaches, abundant fishing opportunities, and a laid-back atmosphere that attracts visitors from all over the country. As a result, the short-term rental market on the Bolivar Peninsula has grown significantly, with many investors purchasing properties to rent out to vacationers.
Investing in a Short Term Rental
If you're considering investing in a short-term rental property on the Bolivar Peninsula, there are a few things you should keep in mind. First, location is key. Properties located near the beach or with a water view tend to be in high demand and can command higher rental rates. It's also important to make sure the property is in good condition and has all the amenities vacationers are looking for, such as a fully-equipped kitchen, comfortable furnishings, and reliable Wi-Fi.
Income versus Expenses
When it comes to setting rental rates, it's important to do your research and see what other properties in the area are renting for. You'll want to price your rental competitively while still ensuring that you're able to cover your expenses and make a profit.
Another important factor to consider is marketing
There are many online platforms, such as Airbnb and VRBO, that can help you reach a wider audience of potential renters. You'll want to create a detailed listing that showcases the unique features of your property and includes high-quality photos.
If it were easy,  everyone would do it!
Of course, managing a short-term rental property can be a lot of work, from coordinating check-ins and check-outs to cleaning and maintenance. You may want to consider hiring a property management company to handle these tasks for you, especially if you're not local to the area.
Do your research!
Overall, the short-term rental market on the Bolivar Peninsula can be a profitable investment if you do your research, choose the right property, and market it effectively. With its beautiful beaches and laid-back atmosphere, it's easy to see why so many vacationers are flocking to this part of Texas, and investing in a short-term rental property can be a great way to capitalize on that trend.
Start your search here
Or reach out to one of our agents to help you today!